As a soloist and chamber musician Cristina Basili has performed at international venues throughout Europe (Konzerthaus and Musikverein Vienna, Tonhalle Zürich, Gasteig Munich, Megaron Athens, Odessa Philharmonic Hall, Walt Disney Concert Hall, Romanian Athenaeum) and has been invited to play at international festivals such as the Pärnu Music Festival, Estonia, Yellow Barn Music Festival, USA, Davos Festival, Switzerland, Riva Music Festival, Italy, International Enescu Festival in Sinaia, Romania, Aigina and Nafplion Festivals, Greece, Festspiele Mecklenburg Vorpommern, Germany. Her chamber music partners include distinguished musicians such as Oleg Maisenberg, Anthony Marwood, Lucy Shelton, Antonio Meneses, Salvatore Accardo, Barbara Moser, Rainer Schmidt, Annely Peebo. As a soloist and orchestra musician she collaborates with conductors Hobart Earle, Claudius Traunfellner, Vitaly Protasov, Francois-Xavier Roth, Benjamin Zander, Michael Tlson Thomas, Yoav Talmi, Uriel Segal, Michael Sanderling, Marin Alsop, Neeme Järvi and Paavo Järvi and participates in projects with the Estonian Festival Orchestra, LA Chamber Orchestra, LA Philharmonic Orchestra,  Boston Philharmonic Orchestra, Kaleidoskope Chamber Orchestra. 
Also a very dedicated interpreter of contemporary music she regularly gives world premieres by living composers. In 2021 her recording of works for solo cello by the Australian-Greek composer Nestor Taylor, published by Donemus Records, was released.
She is a member of the Ensemble Wiener Collage. 
Together with actress Elisabeth Kanettis, she is co-founder of the interdisciplinary collective EnsemblART, whose video performances have received several international awards (e.g. at the Goodmesh Concours 2020 and ISA Creative Award 2020) and of the Musicpoetry Duo Die Bühnencousinen (cello & acting), which performed in 2021 as part of the Vienna Cabaret Festival at Rathausplatz Vienna and has been touring successfully in German-speaking countries since then.  
Cristina is prize winner of national and international competitions such as Brahms International Cello Competition, International Cello Competition Liezen, Janigro Youth Competition, Austrian national Competition "Prima La Musica" , Lions Music Competition, a.o. In 2012 she won a prize grant from the Rahn Kulturfonds in Zurich, which placed a master cello at her disposal.
She was a scholarship recipient of the Karajan Stiftung Vienna, Rahn Kulturfonds Zurich,  Lyra Stiftung, Onassis Foundation Greece, University of Southern California and the Accademia Chigiana Siena, Italy. In 2014 she was awarded the Premio Banca Monte dei Paschi di Siena.
Born into a Greek-Italian family of musicians in Vienna, Cristina started her cello studies at the age of six with Vladimir Malinovsky. Since 2005, she has also worked intensively with David Grigorian in Munich.
At the age of fifteen she met the renowned cellist Antonio Meneses and was asked to join his classes at the University of Arts in Berne where she graduated her studies under a scholarship of the Onassis Foundation Greece with a Master Performance Diploma in 2015. She also holds a graduate diploma from the Thornton School of Music at the University of Southern California, Los Angeles, where she studied with Ralph Kirshbaum , as well as pedagogical degree and a Master in Chamber Music from the University of Music and Performing Arts Vienna, where she studied with Johannes Meissl. 
In addition to her studies she has worked with and been coached by Natalia Gutman, Frans Helmerson, Wolfgang E. Schmidt, Thomas Demenga, Claudio Bohórquez, Gustav Rivinius, Leonid Gorokhov, Alban Gerhardt, Benjamin Zander, Paavo Järvi, Neeme Järvi, Belcea Quartet and Hagen Quartet. 
Cristina is also an enthusiastic teacher and gives masterclasses throughout Europe.
She plays on an instrument by Antonio Gibertini, Parma, 1744.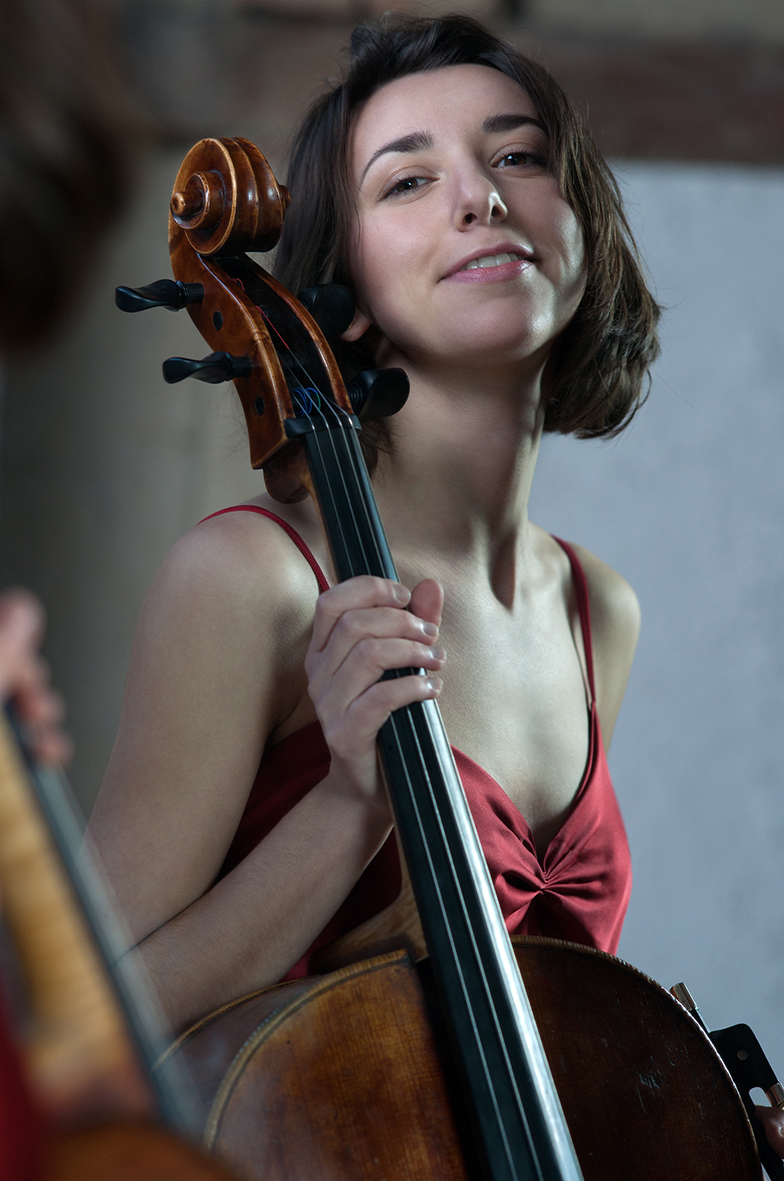 "I like telling unheard stories and creating special atmospheres on stage. The cello is my precious tool, that makes this unique way of communication possible."
Cristina Basili